Unusual news hit the gymternet today as U.S. Senior National team member, Nia Dennis, is rumoured to have moved to Illinois recently and is currently training at Legacy Elite Gymnastics in Carol Stream, Ill., just 12 miles away from where this year's Secret Classic will be held in Hoffman Estates.
The 16 year old, who had been with her previous gym, Buckeye, since 2008, is now said to be training in Illinois. The gym she has moved to, Legacy Elite, has played host to some notable elite gymnasts in the past, namely the Caquatto sisters, Anna Li, who's parents run the gym, as well as Michigan State Spartan gymnast Alina Cartwright.
Currently, the program has one elite gymnast, junior Gabby Perea, but they have a very strong Junior Olympic program and obviously uphold credible elite history. So, now for the speculation. Why has Nia decided to up sticks? and so close to Championship season, too?
Well, an answer is yet to be provided but the gymternet have speculated that the addition of Olympic Champion, Gabby Douglas, may have been a reason because perhaps Nia just doesn't get given enough attention and has fallen out with coaches. Additionally, infamous gymnastics media website, Gymnastike, could've been the cause of the issue. In their recurring series, Between the Routine, they take an inside look into gyms across the country. Often instrusive, the episodes seem to expose gymnasts in a different light and various gymnasts, such as Alexis Beucler, Pixie Brock and Emily Gaskins who all moved gyms shortly after their episodes aired. This seems very suspicious to me.
In addition, recent Buckeye gymnast, who used to train in Washington, Shilese Jones, is also said to be moving with Dennis and will stay at their same home. It seems like Legacy Elite is reaping the benefits!
So, who knows what the future holds for Dennis and Jones. All I hope is that it doesn't dramatically effect their performances as they show so much promise!
Ammendment
I can now confirm Dennis' move to Legacy Elite as her USA Gymnastics official bio page as been changed.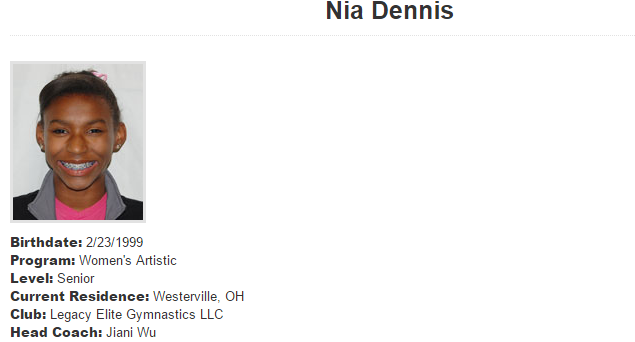 ---
An article by James Greaves, editor-in-chief
Photo credits: Zimbio